So Wild by Eve Dangerfield
Series: Silver Daughters Ink #1
Publication Date: October 23th, 2018
Genres: Contemporary Romance, Erotica
Length: 331 pages
As a teenager, Samantha DaSilva had two interests: running wild and messing with her posh neighbour. The neighbour moved away—the coward—but the wild kept right on going. At least it did until her hippie father vanished, leaving her in charge of the family tattoo studio. As Sam struggles to keep the business afloat her childhood nemesis returns, taller, blonder and more offensively gorgeous than ever.

As a teenager, the wildest thing Scott Sanderson did was get a crush on Sam DaSilva. When that blew up in his face he moved to London to pursue realistic goals and girls who didn't set fire to his underwear. After unexpected circumstances pull Scott back into Sam's orbit, he's shocked to discover he's still in love with a woman who doesn't own a phone. And who hasn't forgiven a thing.

As Sam and Scott struggle to make sense of their mutual attraction, they confront some of life's biggest questions—can you ever really get over the past? Is it better to be safe or sorry? Is a spanking adequate punishment for putting someone's virginity on eBay?


I was quite pessimist about anything with tattoos. I don't know why, honestly. Maybe because I live in conservative family who said tattoos = bad; especially for woman. I'm afraid I will sounds too judgemental. But when the blurb says: "Is a spanking adequate punishment for putting someone's virginity on eBay?", my quick answer is HECK YES!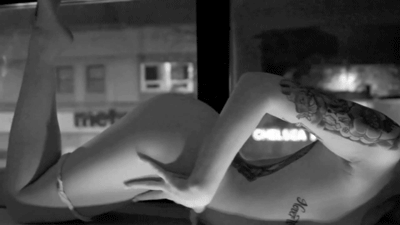 Samantha DaSilva is the
wildest
heroine I've ever read. She has a loving father and her twin, Nicole aka Nix and the youngest, Tabitha aka Tabby (like a cat?). DaSilva is really wild family. It seems her father gives her freedom at any chance. DaSilva also owned a tattoo shop called Silver Daughters Ink and passed on to Samantha.
Scott Sanderson is the most
"patient"
man I've ever read. It's not that bad but not good either. Scott has a tough childhood also not-friendly father. Originally from London, he was easily picked because his posh appearance and always on battle with DaSilva sisters especially Samantha.
Imagined how surprised is Samantha when her neighbor dearest back again. Duh, it's totally awkward. But Samantha couldn't hide her interest towards Scott. He's matured and really different. But Samantha dismissed any dirty thought about him because her father run nowhere to be found and her evil neighbor's father wants their land.
I enjoyed the DaSilva's reunion when Sam's sisters decided to come and help the shop. The sisters really have different personality also their own problems. I could say they have such an interesting childhood despite some family drama. I just keep wanting for more and more until I didn't realize how long is the story. Of course, I was curious about how is their relationship gonna be after all this time.
Unfortunately, this is not hot enough to burn my kindle. Just steamy with the right amount of foreplay and hotness between Samantha and Scott. Also surprisingly, it was quite tame or not too kinky. Despite my problem with the sexy times, I quite enjoyed their romance. It was honest and cute. They're already falling for each other since childhood and so the chemistry.
Every couple has their own back and forth. However, Samantha and Scott handled their problems like a champion. No shitty feelings involved. Maybe it is only me, but I feel their final together is too rushed. Also I still didn't understand why Scott won't cut ties with his toxic father, or maybe it is just me. But overall, it is a swoon-worthy romance with good laugh between the characters. I couldn't control my LOL with all of them. Can't wait for the other sisters's story.
ABOUT THE AUTHOR
Eve Dangerfield has loved romance novels since she first started swiping her grandmother's paperbacks. Now she writes her own sexy tales about complex women and gorgeous-but-slightly-tortured men. Her work has been described as 'the defibrillator contemporary romance needs right now,' and not by herself, or even her mum, but by OTHER PEOPLE. Eve lives in Melbourne with her boy and a bunch of semi-dead plants. When she's not writing she can usually be found making a mess. So Wild is her tenth novel.

Follow Eve Dangerfield on Social Media:

Website Facebook Twitter Goodreads